---
---
MPN: 72601
UPC: 700191220231
Manufacturer: Longacre
---


DXI™ Semi-Pro Model
A nice step up from economy models - at a great price.
Shows all 4 wheel weights on separated displays for easiest viewing
Also shows ALL partial % and weights at the same time
An easy-to-use Memory stores 8 setups with instant recall
High quality Red Poly cables, Billet AN connectors with gold plated contacts
Deluxe Silver carrying case protects electronics and stores cables
Includes 15" x 15" x 2½" low profile scale pads - 1500 lbs per pad capacity (set of 4)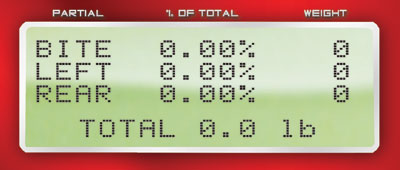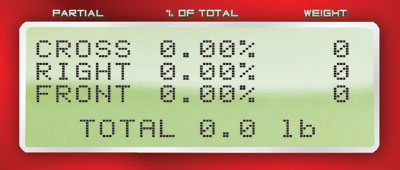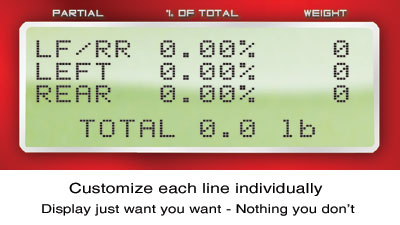 Satin Finished Scale Pads
These pads are flat to within .010" and have internal webs to minimize deflection for accurate setups. (Set of 4 included)
NIST Certification
Load cells and scale systems from Longacre Racing Products are tested and calibrated to the standards traceable to the National Institute of Standards and Technology (NIST) and are part of a comprehensive measurement assurance program for ensuring continued accuracy and measurement traceability.
Testing is accredited by the National Institute of Standards and Technology (NIST) through the National Voluntary Laboratory Accreditation Program (NVLAP) for specific scope of accreditation under lab code 200446-0. This laboratory meets the requirements of ISO/IEC 17025 and ANSI/NCSL Z540-1.
Accuracy is equal to .1%.
METRIC OPTION: The DXI control box is user switchable to metric readings. Please choose the metric display option if you require metric and we'll make sure it gets switched for you. Or you can easily do it yourself.
Longacre ComputerScales are not designed for, certified for or recommended for use with any manned aircraft.
Specifications
 
Control Box
 

Model:

DXI™

 

Memory:

8 slot

 

Batteries:

6 AA

 

Cables:

Red

 

Connectors:

Billet AN alum. w. gold plated contacts

 

Cable Length:

20 ft

 

Case:

Silver

Pads
 

Size:

15" x 15" x 2 1/2"

 

Capacity:

1500 lb per pad

 

Finish:

Satin finish

 

Load cells per pad:

1
---