---
---
MPN: 72652
UPC: 700191220286
Manufacturer: Longacre
---


Professional Model
This Professional model shows all 4 wheel weights on separated displays for easiest viewing. Also shows ALL partial % and weights on a separate 4 line display that can be easily customized to your preferences. An easy-to-use Memory stores 8 setups with instant recall. The Premium Yellow cables come with billet connectors and locking rings.
DUAL Load Cell CNC Machined Pads
Dual cells give you a much more rigid platform than any single cell pads can. The lower deflection significantly improves accuracy and consistency, particularly for critical cross weight.
These new pads are fully CNC machined to a dead flat finish - within just .005"
Simple to Use
This is the easiest system to use. Just set it up and turn it on. Everything is displayed at the same time in a logical, simple-to-understand format. No complicated instructions to remember, no overcrowded display with too much information crammed into too small a space.
Low Power Consumption
This system runs on 6 AA batteries (included). The advanced electronics used here consume so little power that this system should run for 1 year or more in normal use before replacement. No recharger is needed. An accurate Low Battery indicator gives you plenty of warning when replacements are due.
To assure that you get the most accurate, reliable readings possible we have developed special electronic stabilization circuitry for this model. It uses the latest 24-bit ADC converter (most other scales use 14-bit) and special proprietary software that averages many readings to filter out small short-duration spikes. The result is a rock steady reading with little or no jitter. The weights you get are accurate, consistant and repeatable, giving you the most accurate settings possible to keep you running up front. 
Premium Yellow cables and luggage grade silver carrying case
4 individual wheel weight displays
Large 4 line display for all partial % and weights easily customized to your preferences
Instant recall Memory for 8 complete setups
Set of 4 Fully CNC Machined 15" low profile scale pads with DUAL Load Cells - 1800 lbs per pad capacity
Advanced low power consumption electronics run on 6 AA batteries (included)
Control box includes the latest stabilization circuitry
2-year limited warranty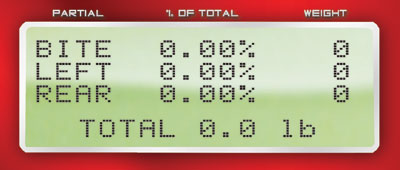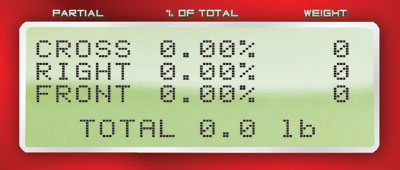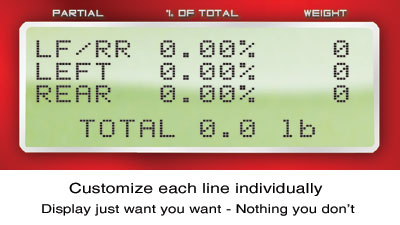 NIST Certification
Load cells and scale systems from Longacre Racing Products are tested and calibrated to the standards traceable to the National Institute of Standards and Technology (NIST) and are part of a comprehensive measurement assurance program for ensuring continued accuracy and measurement traceability.
Testing is accredited by the National Institute of Standards and Technology (NIST) through the National Voluntary Laboratory Accreditation Program (NVLAP) for specific scope of accreditation under lab code 200446-0. This laboratory meets the requirements of ISO/IEC 17025 and ANSI/NCSL Z540-1.
Accuracy is equal to .1%.
METRIC OPTION: The DXI control box is user switchable to metric readings. Please choose the metric display option if you require metric and we'll make sure it gets switched for you. Or you can easily do it yourself.
Longacre ComputerScales are not designed for, certified for or recommended for use with any manned aircraft.
Specifications
 
Control Box
 

Model:

dxi™

 

Memory:

8 slot

 

Batteries:

6 AA

 

Cables:

Yellow

 

Cable Length:

20 ft

 

Case:

Silver

Pads
 

Size:

15" x 15" x 2 1/2"

 

Capacity:

1800 lb per pad

 

Finish:

CNC Machined

 

Load cells per pad:

2
---