---
---
Condition: NEW
MPN: 72661
UPC: 700191220309
Manufacturer: Longacre
---

Simple to use - just push a buttons to get everything you need!
- Push one button for all 4 wheel weights plus Cross Weight
- Push a second button for all partial %
Simple, uncluttered display – No unneeded information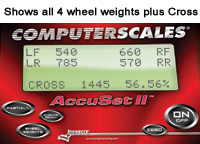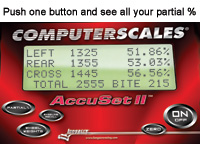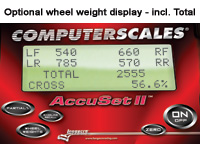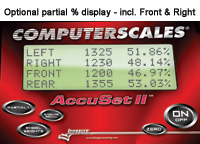 NEW – Baseline Memory Recall
Store your baseline setup in Memory. Then recall it instantly to compare to the current setup. Saves time writing it down – always handy. This 1 slot memory is really handy and is super easy to use.
NEW Heavy duty 24' Yellow HiFlex cables with Billet AN connectors
Face is slanted for easier viewing
4 natural finished 15" x 15" x 4" pads with 1500 lb. per pad capacity
Includes Silver carrying case for electronics and cables
2-year limited warranty
NIST Certification
Load cells and scale systems from Longacre Racing Products are tested and calibrated to the standards traceable to the National Institute of Standards and Technology (NIST) and are part of a comprehensive measurement assurance program for ensuring continued accuracy and measurement traceability.
Testing is accredited by the National Institute of Standards and Technology (NIST) through the National Voluntary Laboratory Accreditation Program (NVLAP) for specific scope of accreditation under lab code 200446-0. This laboratory meets the requirements of ISO/IEC 17025 and ANSI/NCSL Z540-1.
Accuracy is equal to .1%.
METRIC OPTION: The AccuSet II control box is user switchable to metric readings. Please choose the metric display option if you require metric and we'll make sure it gets switched for you. Or you can easily do it yourself.
Longacre ComputerScales are not designed for, certified for or recommended for use with any manned aircraft.
Specifications
 
Control Box
 

Model:

AccuSet II™

 

Memory:

1 slot

 

Batteries:

6 AA

 

Cables:

Yellow

 

Connectors:

Billet AN w. gold-plated contacts

 

Cable Length:

24 ft

 

Case:

Silver

Pads
 

Size:

15" x 15" x 4"

 

Capacity:

1500 lb per pad

 

Finish:

Natural

 

Load cells per pad:

1
---